Louisiana Solar Energy Lab
The Louisiana Solar Energy Lab is one of the largest outdoor test facilities in the southeast United States, and is used for performing long-term operational testing of various types of solar technologies, including different types of modules, inverters, and racking systems.
Research is currently being conducted on solar module degradation, soiling, and solar forecasting. The Louisiana Solar Energy Lab is also used for education, workforce development and outreach.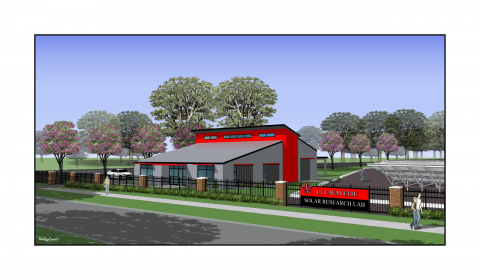 In February of 2022, the university broke ground on a new building to be constructed at the Louisiana Solar Energy Lab.  This building will serve as a 4,500-square-foot hub for research, technology development, instruction, training, outreach and workforce development
It will house solar testing equipment, a classroom, interactive learning applications, a seminar room with audio-visual equipment, a conference room, and a visitor's center with visual displays and informational kiosks
Beyond research, testing, training and industry collaboration, the facility will enable the University to expand its solar energy courses and curriculums.